Hello everyone! We hope everyone is getting through another long winter well and looking forward to the 2020 golf season as much as we are.
This edition of the newsletter contains exciting new information for 2020 including;
-A new annual memorial golf tournament honoring Co-owner Andy Myers' Mother who passed away in Dec 2018. This will be a very unique event. Read on to find out how!
-Chef Rose and the team have been hard at work on new menus for both the restaurant and banquet operations. Bring your appetites to the course this year. You won't be disappointed.
-An introduction to both Chef Rose and Asst Pro Michael Carter. Read their bios below.
-Signups have started for PGA Junior League Golf at Sunset Ridge. if you have kids in your family and friends network ages 7 – 13 they won't want to miss out on this fun PGA golf program. Registration information is below.
-Exciting revisions to our website are coming soon.
G.E.M. Memorial to benefit Helping Hounds Dog Rescue
A first of its kind event for CNY Golfers and Dog lovers! We are hosting a unique fundraising golf event and dog walk-a-thon where you get to BRING YOUR DOGS TO THE GOLF COURSE!! All proceeds donated to Helping Hounds Dog Rescue! The event will be held on Friday June 26, 2020. Why the event is called the G.E.M. Memorial: PGA Professional and Co-owner of Sunset Ridge Golf Club, Andy Myers lost his mother Gayle E. Myers (G.E.M.) in December of 2018. The two things that made her the happiest near the end of her life were her 4 dachshunds and knowing that the family owned a golf course. This annual event at Sunset Ridge in her honor will help the animals she loved so much. Andy also adopted his beagle, Chance, from Helping Hounds in 2018 and since his dogs love to go out on the course with him, we thought it would be great to have a day where other golfers get to enjoy the course and company of their pets too. Please join us for a great day and this great cause!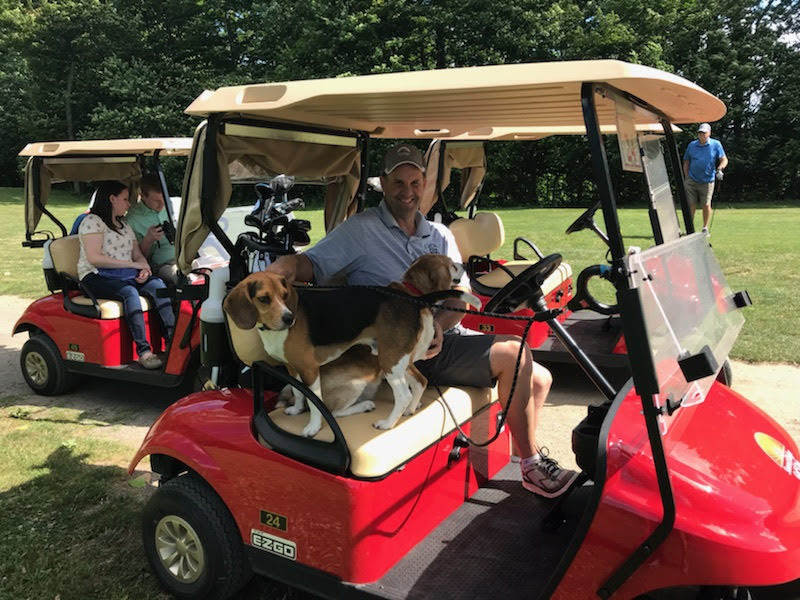 New Full Time Staff Bios and Pics
We are happy to introduce and welcome both Chef Rose Thompson and Assistant Golf Professional Michael Carter to the Sunset Ridge team.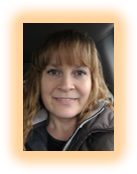 Chef Rose Thompson returns to Sunset Ridge Golf Club for the 2020 season but this time as our new Executive Chef. Rose has worked with us since 2018 and we welcome her to this new and exciting role. Rose has already revamped our restaurant and banquet menus and her fish frys this summer are not to be missed! Chef Rose has grown from humble beginnings. She was exposed to a wide range of cultural backgrounds in her childhood and credits her culinary range to the many teachers who welcomed her into their kitchens throughout her life. Rose loves creating special dishes that bring back fond memories of those experiences. Her greatest inspiration has drawn from a woman, affectionately named "Grandma Lee". Grandma Lee taught her how flavors can work together and they spent many days experimenting with new flavors and traditional recipes to make them even better! These experiences led Rose to pursue a new career in the culinary arts. She earned her degree in Culinary Management from Onondaga Community College. Rose has combined her love of cooking with her love of fishing and hunting to create award winning fish and game dishes in the CNY area. She is a member of the American Culinary Federation and is currently working on achieving certified status. Rose is excited for the coming season and looks forward to meeting everyone!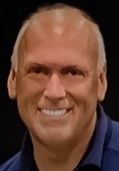 Sunset Ridge is proud to welcome Michael Carter as our new Assistant Professional. Michael, who resides in Owasco, N.Y. brings a broad amount of experience to Sunset Ridge. As a business owner in the golf industry, his company Go To Caddie specializes in yardage books and course management products. GTC partners with several PGA and LPGA tour professionals, academies and organizations. His clients include The Golf Channel, Titleist, Dustin Johnson, KJ Choi, Pajaree Anannarukan, Tommy Fleetwood, and top instructors such as Jim McLean, David Leadbetter, and Gary Gilchrist. Michael is the father of recently turned PGA Professional, Larissa Carter whom he taught throughout her junior and amateur career. In addition to his experience working with his daughter, Mike has taken part in several junior clinics and has vast experience in course management instruction, corporate and charity tournaments.
Chef Rose has been hard at work customize a brand new banquet and restaurant menus. If you have a party or event coming up this season there is no better place to have it than here!
PGA Junior League Golf Returns for 2020 PGA Jr. League is shifting the perception of youth golf and the way the game is learned and played. The program brings family and friends together around fun, team golf experiences with expert coaching and instruction from PGA Professionals. It's a game changer, and we're so excited to offer PGA Jr. League at Sunset Ridge Golf Club! Sunset Ridge Golf Club's PGA Jr. League program is open to boys and girls ages 13 and under of all skill levels – no golf experience required! Kids will learn the game and enjoy relaxed competition in a two-person scramble format that encourages mentorship, builds confidence and teaches sportsmanship. Each PGA Jr. League golfer will receive:Two high-quality team jerseys, one orange and one blue (for home and away games). Jerseys are available in boys and girls sizes and customizable with our team name and player's chosen jersey number!
T-shirt, hat, bag tag, stickers and drawstring bag
2-3 team practices
4-6 regular season matches
Opportunity to advance to All-Star teams during post-season To find out more or register a player for our team visit:
Sunset Ridge PGA Junior League Sign-up Page
Have you seen our latest flyover posts? Warning: If you are itching for Spring, these will only make it worse!
https://www.sunsetridgegolfclub.com/aboutus/flyover/